On January 4, businesses with more than 100 employees will have to make sure unvaccinated employees can comply with OSHA regulations.
BY

 

BRIT MORSE, ASSISTANT EDITOR, INC.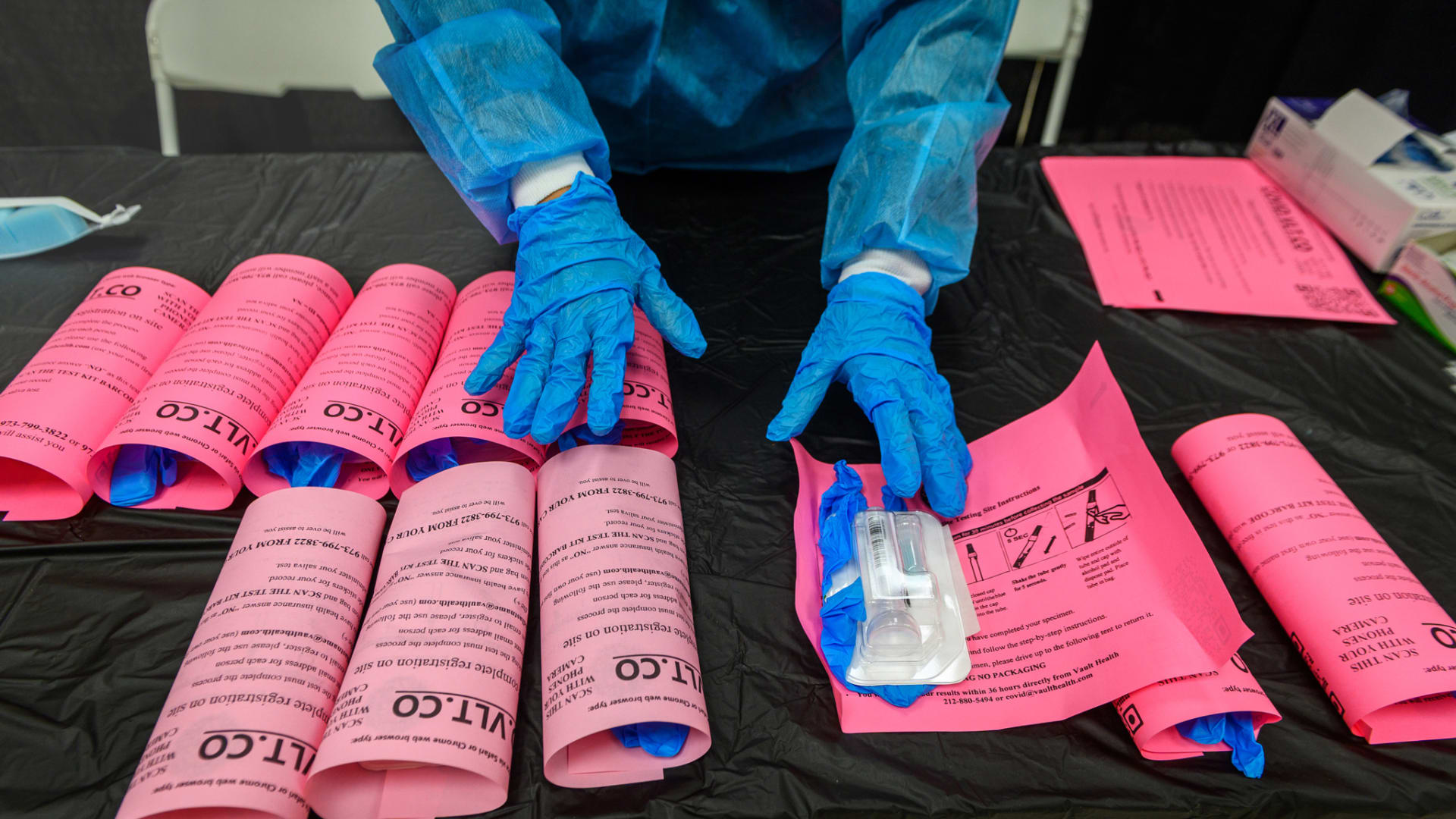 With the federal vaccine mandate on the horizon, businesses need to know how to test unvaccinated employees for Covid-19. If they don't comply, hefty fines may ensue.
The Department of Labor's Occupational Safety and Health Administration (OSHA) is requiring that all employers with 100 or more employees ensure each of their workers is fully vaccinated, or passes Covid-19 tests on a weekly basis. Employees who test positive can not come into work.
To provide employers with sufficient time to comply with the new regulations, OSHA will not issue any citations before January 10. And it will not issue citations for noncompliance with testing requirements before February 9. This means businesses have a little more than a month to figure out how to request and record Covid-19 tests from any unvaccinated employees.
Here's what you need to know about testing to comply with the vaccine mandate:
Employers don't need to pay for testing.
OSHA's emergency standard does not require businesses to pay for Covid-19 tests for unvaccinated employees. However, employer [RIGHT?] payment may be required by other laws, regulations, collective bargaining agreements, or other negotiated agreements. Employers can also choose pay for testing.
Free testing is available for employees.
President Biden this week announced  a plan to expand at-home testing. New sites for distributing at-home test kits will be set up across the country; the Administration plans to purchase half-billion to these rapid tests. The tests are free. Employees with private health insurance can also request reimbursement for at-home Covid-19 tests they buy at pharmacies and elsewhere, which typically cost from $15 to $40.
Employees must tell businesses if they test positive, and businesses must alert everyone.
If an employee tests positive, or is diagnosed with Covid-19, make sure they notify their employer immediately. If someone who tests positive shows up to work, employees could rightfully sue a company for reckless endangerment and negligence if an employer does not tell them about a positive case.
The infected employee must also be removed from the workplace, regardless of vaccination status. The employee has to remain home until they meet the requirements to return to work, which for most people is: 10 days after symptom onset; resolution of fever for at least 24 hours, without the use of fever-reducing medications; and improvement of other symptoms, according to the Centers for Disease Control and Prevention (CDC). Health care providers may recommend 20 days or more of isolation if a case is severe.
Covid-19 test records must be kept; if not you may be fined.
OSHA requires employers to make vaccine documentation and any Covid-19 testing results  available for examination. These documents must be kept confidential and in compliance with the Health Insurance Portability and Accountability Act of 1996 (HIPAA). Fines for repeated and willful violations of the mandate are $136,532, with a minimum penalty of $9,753. The legislation sets a maximum penalty of $13,653 for any single serious violation, and a further penalty of not more than $13,563 per day for a failure to abate the violation (though the maximum penalty for this abatement failure is capped at 30 times the daily penalty).
Employee tests must pass OSHA standards.
In accordance OSHA, all employee Covid-19 tests must be cleared, approved, or authorized, by the Food and Drug Administrations (FDA). The tests can not be both self-administered and self-read unless observed by the employer or an authorized telehealth proctor. This means that all tests submitted to the employer need to include a third party. This includes tests that are processed by a laboratory (including home or on-site collected specimens, which are processed either individually or as pooled specimens), proctored, over-the-counter tests, point of care tests, or tests where collection and processing is either done or observed by an employer. 
Be weary of at-home tests.
There are tools, such as apps, that can be used to self-administer and "digitally verify" at-home tests with the use of a compatible smartphone. An employee would take a test at home and then verify the results using the technology. Be aware that this method goes against section 1910.501(c)(iii) of the OSHA rule, and may enable infected employees to avoid registering a positive test. To comply with OSHA, all test results must be verified by a third party, so using this method may result in fines. 
Any business that fails to comply with Biden vaccine mandate, which affects companies with at least 100 employees, may face fines. For a serious violation, a fine can cost as much as $13,653 per incident. 
If your business acts in "good faith," however, and you're doing your best to get this up to date, the agency says it will give you until February 9, 2022.
If you have 100 or more employees and you're not prepared with an implementation plan, you'd better spend this holiday season figuring out how to track weekly testing.
You need your ETS-compliant policy by then. You may already have a Covid safety policy, but this one will need to comply with the OSHA ETS. If you didn't bring it into compliance earlier, now is the time to start
You need to collect vaccination data by then. You need to confirm which employees have been vaccinated (right now, two shots are still considered fully vaccinated). You cannot just trust that they have been--you need to see the documentation. It is not a HIPAA violation to ask to see someone's vaccination card
You need to require masks for the unvaccinated by then. My strong recommendation is to buy disposable masks for people who work on-site. Yes, this is a cost, but clean, fresh masks will be better at protecting people than the same cloth mask that someone has worn for three weeks straight.
You have the option of mandating vaccinations for all your employees. Because it takes three to four weeks between doses and two weeks after the second dose to be considered fully vaccinated, your employees need to go out and get that first shot as soon as possible.
OSHA won't surprise visits or punish people working toward compliance until February 10, but that time will come quickly.
Remember, even with mandatory vaccination rules, people can have a legitimate health and religious exemptions. Make sure that's in your policy.
For unvaccinated employees
Your unvaccinated employees (whether they have religious or health exemptions or not) must take a Covid test weekly. You have to document the testing and keep records.
If you have three unvaccinated employees, this will not be difficult. If you have 300, it might turn into a logistical nightmare.
Employees can use the self-testing kits, but they cannot self-certify. So they will need to administer them at the office with someone watching to certify whether the test is negative or positive. (If someone tests positive, they need to go home immediately.) 
To save on costs, you can use pool testing. This is where you combine samples and run a single test. If the test is negative, then everyone is negative. If it comes back positive, then everyone in the pool retests. 
Fines if you do not comply
This isn't just a nice suggestion from OSHA. OSHA can fine you up to  $13,653 for each violation and up to $136,532 for willful repeated violations.
Either get your business ready, or get your checkbook out.
What about the Supreme Court?
In other words, even if it goes to the Supreme Court and the Court blocks the ETS, you'll need to implement it for January 10. You're free to cross your fingers and hope but prepare anyway.  
Correction: An earlier version of this article misstated the penalty for noncompliance. OSHA can fine companies up to $13,653 per serious violation.